Fundraising Event with Dwight Clark - October 21, 2006

See pictures from the Dwight Clark bottle signing event.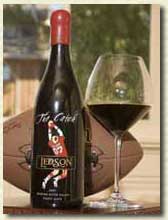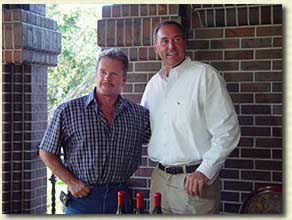 Former San Francisco 49er great Dwight Clark and Steve Ledson teamed up to release the exceptional Harmony Collection 2005 Russian River Pinot Noir, the third Ledson Harmony Collection wine, to commemorate and celebrate the 25th anniversary of 'The Catch'. The wine is a blend of four different clones from Russian River vineyards. Aged exclusively in French Oak barrels, this lovely Pinot Noir is delicate on the palate with flavors of cherry and plum, silky in texture, it lingers and lingers to a long rich slightly spice finish. You won't be able to stop sipping. This hand-crafted wine received a Gold Medal from the San Diego International Wine Competition. On October 21st, 2006 Dwight Clark spent a day at the winery signing bottles of his wine (see pictures from the bottle signing event). Proceeds from the sale of this wine benefit the Harmony Foundation for Children. We invite you to enjoy this wine and thank you for helping our Harmony Foundation kids "catch" their dreams.

"I have been fortunate in life. I played professional football and worked for one of the greatest sports franchises in history, the San Francisco 49ers. When the 25th Anniversary of "The Catch" approached, my friend and I wanted to have a wine that would commemorate the event. We had heard of the Harmony Collection of wines that Steve Ledson was making for his Harmony Foundation. We approached Steve Ledson about this idea, as we wanted to be in the same company of his earlier wines that he made with Michael McDonald and Jeff Bridges. That was a great call! Steve and I hit it off and had a great time working together. In no time we had an event set up at the Castle on October 26, 2006. Hundreds of football fans and wine lovers showed up. It was like nothing that I have ever seen at a winery before! The wine, a 2005 Russian River Pinot Noir is fantastic and has received several gold medals. With the Harmony Foundation, Steve and I were able to help deserving children accomplish their dreams as we both feel children are the future of America, whether they dream to be a football player, winemaker, astronaut, singer or whatever they aspire. The attention that the event and the wine received was phenomenal, and better yet, it was all for a great cause. It has been a great experience with a great wine that has produced front page stories in newspapers, wine publications and even a special feature on ESPN. "
- Dwight Clark