Fundraising Event with Jeff Bridges - October 29, 2005

See pictures from the Jeff Bridges bottle signing event.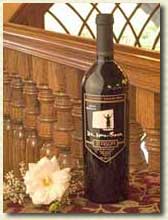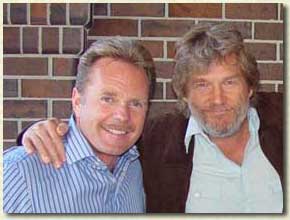 Jeff Bridges teamed up with owner Steve Ledson to create the 2000 Ledson Harmony Collection Jeff Bridges 'Be Here Soon' Napa Valley Meritage. This extraordinary blend of Cabernet Franc, Cabernet Sauvignon and Ledson Estate Merlot was awarded an admirable 91 points from The Wine Spectator in April 2005. On October 29, 2005, Bridges was kind enough to spend the day at the winery signing bottles of his wine and meeting with the public (see pictures from bottle signing). Proceeds benefited the Ledson Harmony Foundation for Children. There are still a few cases of this very special wine left, and it is available for $125 a bottle from Ledson Winery & Vineyards.

"My brother, sister and I have always been interested in great wines. When I heard my friend Michael McDonald had made wine with Steve Ledson of Ledson Winery and the proceeds were going to his Harmony Foundation I was curious. I knew Steve from the filming of Tucker, which was shot at his home in Sonoma. I reacquainted myself with Steve and he came down to my house and brought some different Bordeaux blends that he suggested would make an interesting Meritage. We tasted all night and played some music too. We all agreed on a blend and decided to put my CD cover Be There Soon on the label. It was a very special night. It led to a release of the 2000 Napa Valley Meritage. Steve put together a hugely successful bottle signing at his winery on October 29, 2005 and a very lovely fundraiser the following night where my friend and guitarist Chris Polonis and I performed for a private group of Ledson wine clubbers at Steve's Hotel and Harmony Lounge in Sonoma. To cap things off, the wine received a 91 score from the Wine Spectator. What a start in the wine business. My favorite part of the whole experience still has to be the fact that we brought a lot of attention and funding to the Harmony Foundation which continues to do great things for youth in need."
- Jeff Bridges